CARLA  A. REID
General Manager/CEO
[Image]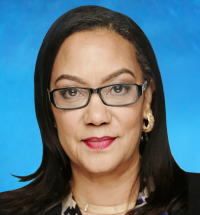 We simplify, focus and connect it all together to ensure safe, seamless and satisfying water services is delivered to our customers.
We do it all… and then some!
The General Manager's Office provides support and strategic guidance to the entire organization. By working closely with all WSSC Water employees, aka H2O People, this office helps transform the General Manager's results-oriented vision into reality. This office maintains the highest levels of accountability and transparency and works to ensure the needs of our 1.9 million customers come first. 
Carla A. Reid is the first woman to serve as General Manager/CEO of WSSC Water.
WSSC Water General Managers
| | |
| --- | --- |
| Robert B. Morse, Chief Engineer | 1918 – 36* |
| Harry H. Hall, Chief Engineer | 1936 – 1952* |
| Harry B. Shaw, Chief Engineer | 1952 – 1959* |
| Robert J. McLeod, Chief Engineer/General Manager | 1959 – 1976* |
| Robert S. McGarry, General Manager | 1977 – 1983* |
| John M. Brusnighan, General Manager | 1984 – 1985 |
| Richard G. Hocevar, General Manager | 1985 – 1993* |
| Cortez A. White, General Manager | 1993 – 1999 |
| John R. Griffin, General Manager | 1999 – 2004 |
| Carla A. Reid, Interim General Manager | 2004 – 2005 |
| Andrew D. Brunhart, General Manager | 2005 – 2008 |
| Teresa Daniell, Interim General Manager | 2008 – 2009 |
| Jerry N. Johnson, General Manager/CEO | 2009 – 2016 |
| Carla A. Reid, General Manager/CEO | 2016 –  |
                                    *Deceased
Last Modified: December 20, 2021, 10:32 am EST