Fats, Oils, & Grease Training
WSSC Water offers free FOG training to Food Service Establishments and Grease Waste Haulers
FOG Program training for Food Service Establishment and Grease Waste Haulers
WSSC Water can offer free training for the larger businesses involved in the FOG Program and can consider training individual FSEs as necessary.
WSSC Water can visit your central business location to provide the training on-site and customized to your particular operation.
The WSSC Water FOG program purpose, procedures and practices are conveyed to all.
We have successfully met with, and trained, the following organizations between 2010-2012: Montgomery County Public Schools (MCPS) Plant Operations, MCPS Food Services, University of Maryland Dining Services, Prince Georges County Public Schools Administration, the National Harbor complex through the Peterson Companies and Montgomery County Government.
Fats, Oils and Grease (FOG) Environmental Science Curriculum for Prince George's County
[Image]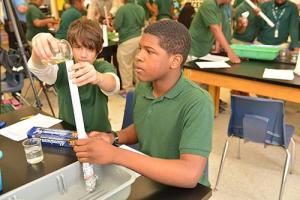 Using hands-on learning activities, students explore the environmental impacts of FOG and how solutions used at home and school will keep Maryland's waterways cleaner and sewer pipes free of FOG.
The program covers how by-products of simple cooking can create contaminants that can clog pipes, restrict water flow and potentially result in sewer back-ups and overflows.  These, in turn, can seep into recreational waterways, where they can harm aquatic life and cause risk of serious human illness.
Through a partnership with the Prince George's County School District every 6th grade student in the county participates in a FOG lesson. Teachers outside PGCPS can request to have WSSC Water come to their class to lead the lesson by filling out the WSSC Water Education Tours & Programs.
Our training is specific, informative and entertaining. It can be created to meet your scheduling needs and last from 30 minutes to 2 hours, depending on the detail you wish.
If you are interested in such a training program, please contact Scott Horn, FOG Section Manager at John.Horn@wsscwater.com or 301-206-8719.
Last Modified: August 11, 2022, 3:58 pm EDT