SR3 Program
Projects in the SR3 Program will take place within three areas: roads, laterals, and environmentally sensitive areas.
What are the Elements of the SR3 Program?
Projects in the SR3 Program will take place within three areas: roads, laterals, and environmentally sensitive areas.
Roads (Public Streets and Thoroughfares)
Projects will address the defects identified through sewer inspection and investigations, including rehabilitation of mainlines and manholes in residential areas, primarily in roadways. 
 
Laterals (Mainline to Property or ROW line)
Service laterals include the sewer house connections from mainline to property or Right of Way line. 
 
Environmentally Sensitive Areas (ESAs) 
Defective assets in ESAs were identified through trunk walk investigations.  These projects will occur within wooded areas and stream valleys.
Work in Environmentally Sensitive Areas
Environmentally Sensitive Areas (ESAs) includes tidal and non-tidal wetlands and wetland buffers, forests, roadside trees, specimen trees, floodplains, waterways, parklands, steep slopes, historical/archaeological sites, Chesapeake and Atlantic Coastal Bay Critical Areas, and areas with rare, threatened, and endangered species. Many assets (i.e., manholes and sewer pipes) in ESAs have already been fixed or improved.  The next few years will bring even more service improvements via repair and rehabilitation work.
WSSC Water's Commitment to the Environment
The SR3 Program provides many benefits to all WSSC Water's customers and aims to add value in the future in a similar way.  One of the major goals of this program is to perform repair work using means and methods that will have the 'least impact' on the surrounding environment.  Major program highlights that demonstrate WSSC Water's environmental stewardship are discussed below:
Stream Restoration Activities
Stream restoration design work (in the vicinity of sewer system assets) will include elements that will help control erosion along the stream banks and regulate water flows/elevations. 
| | |
| --- | --- |
| [Image] | [Image] |
| Before picture of stream restoration showing exposed sewer pipe in stream channel. | After picture of stream restoration, showing armoring of the exposed sewer pipe in the stream channel. |
Minimizing Equipment Impact 
Sewer repair work of this nature (i.e., lining, point repairs, and grouting, to name a few), is standard practice and sometimes requires the use of large, heavy equipment.  In turn, access paths (as temporary as they may be) must be constructed, in order to get the equipment to a particular worksite.  In many cases, the assets that will be repaired as part of the SR3 Program are located in environmentally sensitive areas (ESAs).  WSSC Water is implementing innovative methods for bringing equipment to and from these areas, such as utilizing walk-behind equipment (in lieu of heavy machinery) to reduce impacts, where possible.
[Image]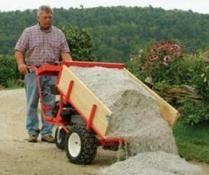 The use of 'walk-behind equipment' will allow the construction contractor to access sites that may be heavily wooded, on a steep slope, or otherwise difficult to reach with standard construction apparatus.  The rubber treads on these transport devices allow the equipment to pass over low-lying brush and shrubs, while not requiring that a path be cleared to the site.
Minimizing Impacts of Access Paths
[Image]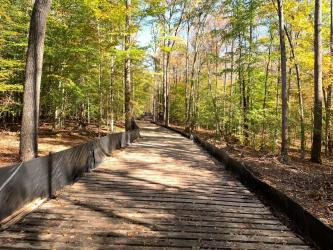 Where possible, WSSC Water will select access paths that avoid the critical areas within ESAs, minimize the path widths (to reduce impact), replant the paths when work is complete, and whenever possible use existing roads and trails.

Working with counterparts in the parks and planning departments of both Montgomery and Prince George's Counties, WSSC Water has developed an approach to reduce impacts to ESAs. Mulch access mats and wood chips will be supplied (where needed) for temporary access paths, when heavier equipment is utilized.  Mulch access mats are environmentally friendly to the ground beneath and can accommodate equipment carrying both light and heavy loads.  Access paths using these mats will reduce impacts to the immediate area.
Last Modified: April 3, 2023, 4:48 pm EDT