Stay Connected, Stay Informed
A quick guide to access WSSC Water communication tools
CNS (Email/Text alerts)
[Image]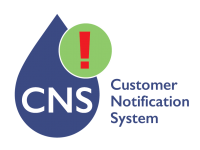 The Customer Notification System alerts you about WSSC Water-related incidents near your home, office, school, or other important addresses. Register for text or email alerts on up to three addresses. You will automatically receive emergency notifications for boil water advisories, water main breaks, sanitary sewer overflows (SSOs) and road or lane closures caused by WSSC Water work.
---
[Image]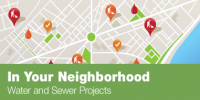 In your Neighborhood (Desktop/Smartphone/iPad)
Check for emergency water and sewer work anywhere in the WSSC Water service area. Zoom in for specifics including progress of the repair.
What are those trucks doing in my neighborhood? If there are WSSC Water trucks or the trucks of our contractors, "In Your Neighborhood" is an interactive map that will provide updated information on the our  projects across our 1000 square mile service area. Just type in your address.
WSSC Water Mobile (Smartphone/iPad)
[Image]

This smartphone app lets you pay water and sewer bills, check on service alerts, report a problem, buy watershed permits, email us with a question and have easy access to a lot of other important WSSC Water information—anytime, anywhere!
---
IssueTrakr (Desktop/Smartphone/iPad)
[Image]
Use this tool to send your complaint, issue or compliment, and receive acknowledgment and notifications. We are here to serve you!
---
Last Modified: April 21, 2021, 9:43 am EDT