Pointer Ridge Water Tower Restoration Project
Background – Pointer Ridge Rehabilitation
The Pointer Ridge Tank is a two-million-gallon steel elevated water storage facility located at 1211 Port Echo Lane, Bowie, Maryland. The elevated tank and associated inlet/outlet piping on site were constructed in 1972 and nearing the end of their service life.
Project Scope
Site Work
The project calls for replacing existing facility yard piping and valve vaults, which will connect to the existing water main in Port Echo Lane.  Site work will also include a new perimeter security fence/gate and repaving of the site driveway.  None of the existing trees are slated for removal as part of the construction project, and there are no proposed changes to the site's landscaping.
Structural
Due to the age of the facility, upgrades to the structural steel and concrete foundation are included as part of the project which will extend the service life of the tank.  This portion of the project also includes updating ladders, balconies and tank access to meet current Occupational Safety and Health Administration (OSHA) standards to ensure WSSC Water personnel can maintain and work around and, on/in the tank safely. 
Coating
The tank's interior and exterior will be recoated with a new epoxy that will protect the tank from corrosion. The process includes removing the existing coating by abrasive blasting, then cleaning and preparing the surface before the new coating is applied.
Containment System
A containment system will be erected around the existing tank structure to provide two important functions:
To contain particles from blasting and the existing coating within the system. The contractor will abide by OSHA, Environmental Protection Agency (EPA), and all other applicable codes for disposing of the waste produced from the abrasive blasting process. 
To prevent overspray during the painting process.
Water Quality
Throughout rehabilitation, the tank will be drained and out of service, isolated from the water system. After the construction completion, the tank will be cleaned and disinfected by WSSC Water. We will also collect water samples for testing; results must be approved by the Maryland Department of the Environment (MDE) before returning the tank to service.
Impact
There will be NO impact to customer water service due to the rehabilitation process. 
Residents in the area should expect minor traffic impacts due to the delivery of materials and equipment to the project site. Deliveries will be restricted to not interfere with school bus pick-up or drop-off (7:15 a.m. – 8:15 a.m. and & 1:30 p.m. – 2:30 p.m.).
Schedule
The contractor is expected to mobilize to the project site mid to late March to install sediment control and soil erosion measures.
The project's expected completion date is June 2024 (weather dependent). 
Additional Information
Location Map
[Image]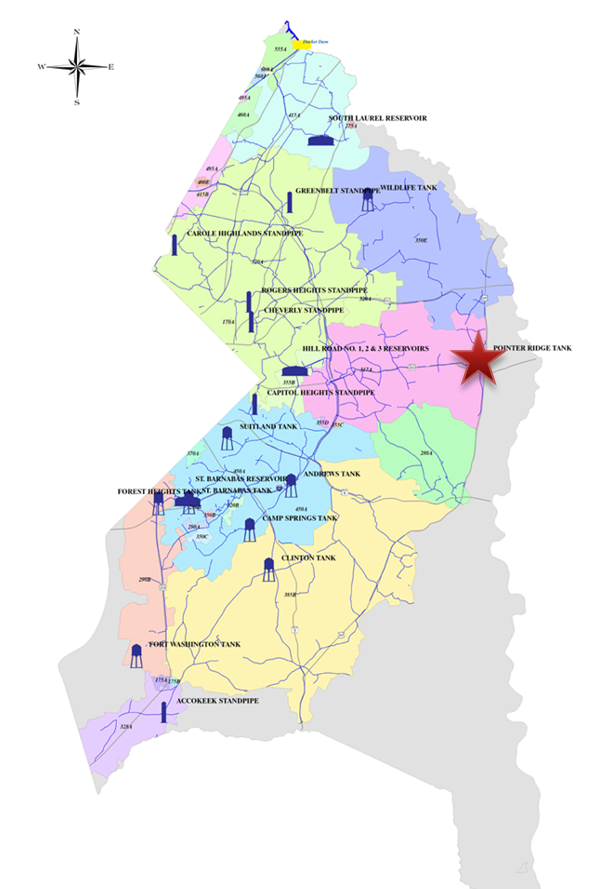 Contacts
Christopher DeHerde - WSSC Water Project Manager – (301) 206-8560
(Please email any questions to Christopher.Deherde@wsscwater.com)
Tony Lord – WSSC Water On-site Representative – (443) 363-1555
David Wilkins – WSSC Water Customer Advocate – (301) 206-4371
Photo - Pre-Rehabilitation
[Image]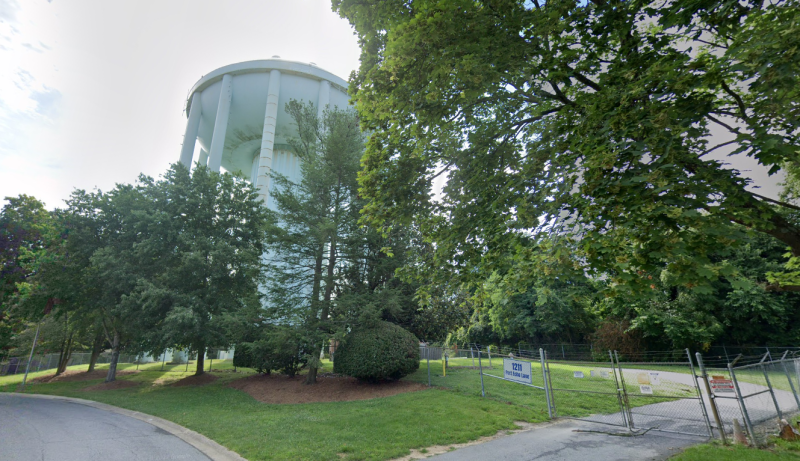 Last Modified: September 18, 2023, 9:23 am EDT