Imagine a Day Without Water Art Contest
Calling all young artists.
Help WSSC Water recognize Imagine a Day Without Water on October 21 by getting creative.
[Image]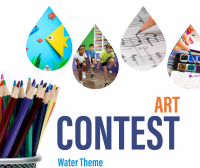 We're looking for your artistic representation of what the value of water means to you and your community.  
Imagine a Day Without Water by pausing to notice the way that water systems impact our lives and communities. What your day would be like if you couldn't turn on the tap and get clean drinking water, or if you flushed the toilet and wastewater didn't go anywhere? A day without water is a public health and safety crisis -- there wouldn't be water to wash your hands, or supply hospitals or fire hydrants.  
Contest details 
Art will be judged in three categories: K – 4th Grade, 5th – 8th Grade, and 9th – 12th Grade. One grand prize winner from each category will receive $100.
Children related to WSSC Water employees are able to participate and will be judged separately. Grand Prize winners who are related to employees will receive an age-appropriate activity kit in lieu of a cash prize.  
If your child has special needs, please indicate that in the description of the artwork.  
Submissions due by 11:59 PM on October 21.
The contest is open to any child between 5 and 18 years of age living in Montgomery or Prince George's counties. They can be enrolled in a public, private or homeschool.  
Submitting Online  
Complete the fields below to submit your entry. A parent, legal guardian or teacher can complete the submission on behalf of a child. If you are the parent or legal guardian, you can sign your consent by accepting the consent clause in the form. If you are not the parent or legal guardian, you will acknowledge that parental consent will be requested at a later date from all finalists selected by WSSC Water. You will see a confirmation message once you hit "submit."  
Direct questions to communityoutreach@wssccwater.com 
Last Modified: March 1, 2021, 1:42 pm EST