WSSC Water Residential Customers Are Using More Water in Wake of COVID-19 Pandemic
Some Customers Experiencing Large Bill Increases as More Family Members Work and Attend School from Home
| News Release
OFFICE OF COMMUNICATIONS AND COMMUNITY RELATIONS
FOR IMMEDIATE RELEASE
Utility Provides Conservation Tips to Help Families Lower Bills
Laurel, Md. – December 11, 2020 – With the COVID-19 crisis leading to more families spending time inside their homes working and going to school virtually, WSSC Water residential customers in Montgomery and Prince George's counties are using more water. The corresponding increase in toilet flushing, dishwashing, cooking and hand washing is driving an increase in water and sewer bills.
The average residential water use has increased by nearly 1,000 gallons per quarterly bill. However, some residential customers are using considerably more water, which can substantially increase their quarterly bills.
"From the outset of this pandemic, we've been urging customers to be mindful of their in-home water use and providing them with practical ways to conserve water and save money," said WSSC Water General Manager and CEO Carla A. Reid. "We are here to help and encourage customers to contact us if they have any questions about their bill, water usage or need to establish a payment plan. We will continue to waive late fees and suspend service shutoffs to help our customers through these difficult times."
Customers are encouraged to review the "How Much Water Do I Use?" section on the front of their bill. With easy to read charts, customers can view the average number of gallons of water used per day during past billing cycles as well as the most recent billing period. For many customers, there is a significant increase in their usage during the pandemic compared to a similar billing cycle in 2019.
Here to Help: Water-Saving Tips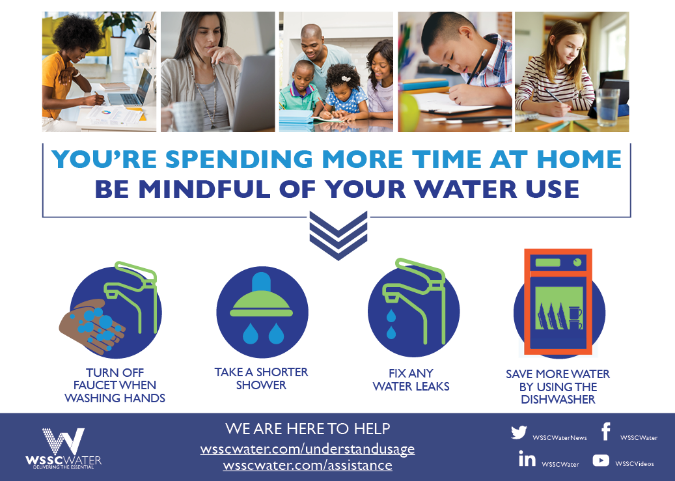 For months, WSSC Water has been providing water-saving tips to customers knowing their in-home usage may increase. Customers can find more information by visiting www.wsscwater.com/understandusage. Here are several ways customers can save water now and save money on their next bill:
Turn off the faucet to lather and scrub when washing hands and brushing teeth
Take shorter showers
Use the dishwasher instead of washing dishes by hand
Find and repair any leaks*
*Toilet leaks are the most common cause of high water bills. These can be silent, intermittent leaks where the toilet tank flapper can let water enter the toilet bowl. These leaks can be virtually undetectable as no water leaks out of the toilet. Check out this video to learn how to detect one of these silent, but expensive leaks.
Here to Help: Contact Us
Please visit wsscwater.com/heretohelp for more information. Customer Service Advisors are available 7:30 a.m.–7:00 p.m., Monday–Friday, and can be reached at 301-206-4001 or by email at customerservice@wsscwater.com.
To learn more about WSSC Water's customer assistance programs, visit the assistance page. Eligibility requirements do apply.
WSSC Water is the proud provider of safe, seamless and satisfying water services, making the essential possible every day for our neighbors in Montgomery and Prince George's counties. We work to deliver our best because it's what our customers expect and deserve.
Last Modified: