Emergency Water Main Repair - Germantown
| News Release
OFFICE OF COMMUNICATIONS AND COMMUNITY RELATIONS
FOR IMMEDIATE RELEASE
Laurel, MD – December 7, 2020: WSSC Water is making emergency repairs to a water main at 12700 block Clopper Rd., Germantown. Customers in this area may lose water service while the water main is being fixed. Repairs will be made as quickly as possible.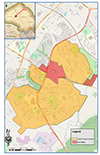 Click to enlarge
Customers in the shaded area may experience low water pressure or loss of water service during the repairs.
A water station will be in place at 13421 Clopper Road (United Church of Christ of Seneca Valley) starting at 5:30 p.m. Customers impacted by the emergency water main repairs can stop by to pick up water.
We apologize for the inconvenience. Thank you for being a valued customer.
WSSC Water is the proud provider of safe, seamless and satisfying water services, making the essential possible every day for our neighbors in Montgomery and Prince George's counties. We work to deliver our best because it's what our customers expect and deserve.
Last Modified: