WSSC Rate Structure Public Meetings Continue Next Week
WSSC Extends Public Comment Period to August 31, 2017 All Meetings Livestreamed
| News Release
OFFICE OF COMMUNICATIONS AND COMMUNITY RELATIONS
FOR IMMEDIATE RELEASE
LAUREL, Md. – June 15, 2017: Continuing their extensive public outreach efforts to ensure customers are fully aware of plans to change its current rate structure, WSSC will host two more public meetings next week – Monday, June 19 in Rockville and Tuesday, June 20 in Laurel. The new rate structure is scheduled to be adopted in June 2018.
WSSC also has extended the public comment period two months, from June 30, 2017, to August 31, 2017 – providing customers additional time to offer their comments, input and feedback.
"We want to hear from as many customers as possible, and extending the public comment period to August 31 will provide more opportunities for input and feedback as we work to develop a new rate structure," said WSSC General Manager and CEO Carla A. Reid.
A key component of the outreach efforts includes a series of public meetings throughout Montgomery and Prince George's counties to help inform WSSC customers on different rate structures and the impacts these options have on their water and sewer bill. WSSC held three meetings in May and two in early June.
WHAT
WSSC will host the two meetings next week, which will include a presentation on two rate structure examples and time to answer questions. The same information will be shared at each meeting. The complete schedule of all meetings can be found at www.wsscwater.com/ratestudy.
WHERE & WHEN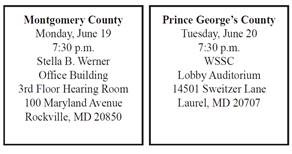 The Maryland Public Service Commission (PSC) recently ordered WSSC to develop a new rate structure. The PSC ruled that WSSC's current 16-tier rate structure is unduly preferential to low-usage customers. Since last summer, WSSC has been actively engaged in a transparent rate structure study involving input from customers, stakeholders and county government representatives. WSSC's current rate structure was adopted 25 years ago and good management practice dictates periodic review of rate structure alternatives. The new rate structure is intended to better align operational and capital costs with rates. Additionally, a new rate structure will provide a more predictable revenue stream to pay for infrastructure improvements. With more than a third of WSSC water mains more than 50 years old, replacing aging infrastructure is key to WSSC's mission to deliver safe, clean water.
ADDITIONAL INFORMATION
All meetings will be livestreamed either on WSSC's Facebook page or via WSSC's website. For more information on the rate study, and to view video recordings from previous meetings, please visit: www.wsscwater.com/ratestudy. Those unable to attend the meetings can watch via livestream and provide comments to: BudgetGroup@wsscwater.com. WSSC videos promoting the upcoming meetings can be found on the WSSC YouTube Channel (English and Spanish).
WSSC Water is the proud provider of safe, seamless and satisfying water services, making the essential possible every day for our neighbors in Montgomery and Prince George's counties. We work to deliver our best because it's what our customers expect and deserve.
Last Modified: