WSSC Strikes Gold in California
Production Team Takes Home Top Prize in National Competition
| News Release
OFFICE OF COMMUNICATIONS AND COMMUNITY RELATIONS
FOR IMMEDIATE RELEASE
Laurel – June 11, 2015 – Eight impressive regional wins, but never a national title, until NOW! It was stressful, down to the wire at the American Water Works Association's (AWWA) Annual Conference in California, but Team WSSC, representing the Chesapeake Section of the AWWA pulled it out yesterday, clinching the Top Ops National Championship.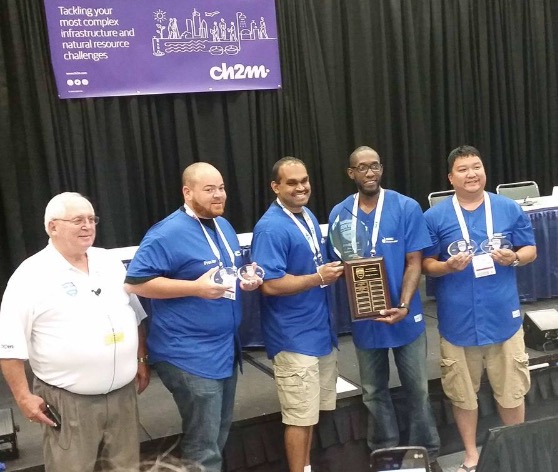 Tops Ops is the "college bowl" of the water industry. Teams from around the country, comprised of water distribution operators go head to head, answering jeopardy-style questions, often technical in nature – such as, "If air is used to generate ozone, what percentage of air is converted to ozone?"
Months of prep, peppering one another with questions, flash cards and white boards full of facts and it all paid off – finally! Dinesh Bahadursingh, Mark Proctor, Ronnell High and John Luu, all members of WSSC's Production Team nailed the regional competition in Ocean City last summer, earning WSSC a spot at the national level.
Team WSSC is no stranger to winning the regional competition. They went to nationals in 2002, 2004, 2005, 2008, 2009, 2010 and 2011, but always left empty handed. The team finished second in 2010 and fourth in 2011.
"They weren't coming home without gold this year," said Richard Tripp, Patuxent Plant Chief Water Operator. "They were determined and they did it!" This is the first year a team representing the Chesapeake Section of AWWA has claimed victory at the national level.
The trophy hasn't even made its way back to Maryland from California and Tripp is already focused on next year. Team WSSC automatically advances to the national competition next year and Tripp says he's working with what he calls the "B" team to win regionals next year in hopes of having two WSSC teams facing off in the nationals. "We've won it now, we're not letting it go," said Tripp.
"Our employees persevered to win, just like they persevere 24/7, 365 days a year to provide safe, clean water to our customers," said J.C. Langley, Chief of Plant Operations.
"I'm proud of what they do every day and this victory further highlights their exceptional skills and knowledge," said Karen Wright, Systems Control Group Leader.
WSSC Water is the proud provider of safe, seamless and satisfying water services, making the essential possible every day for our neighbors in Montgomery and Prince George's counties. We work to deliver our best because it's what our customers expect and deserve.
Last Modified: