5:15 P.M. UPDATE: Majority of Repairs Completed on Silver Spring Water Main Break
Lane Closures Continue into Next Week
| News Release
OFFICE OF COMMUNICATIONS AND COMMUNITY RELATIONS
FOR IMMEDIATE RELEASE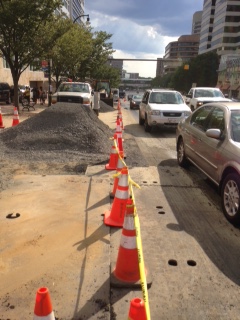 Laurel – August 1, 2015: Working around the clock since Wednesday, crews have completed the majority of repairs on the 16-inch water main on Colesville Road at Georgia Avenue in Silver Spring. Additional work will be finished on Monday because the latest concrete repairs need to cure. Final paving is expected to begin on Tuesday.
The broken section of pipe has been replaced and all other utilities in the area have been checked and repaired as necessary. Water will begin flowing through the new pipe on Monday. All customers in the area have water service via other mains.
Two lanes will remain closed through much of Monday and other lane closures are expected to begin on Tuesday while final paving is completed.
As of 5:00 p.m. today, the right, northbound lane of Colesville Road will remain closed and the right, southbound lane of Georgia Avenue will remain closed. The center, northbound lane of Colesville Road is open. Another update on the lane situation will be provided on Monday.
Crews will return to the job on Monday, after morning rush hour to finish underground concrete work. Final paving of the road and restoration to the sidewalk at Colesville Road and Georgia Avenue will begin on Tuesday. Updates on lane closures related to paving will be provided.
WSSC appreciates the patience of everyone affected by this water main break.
Follow us on Twitter @WSSCWaterNews for updates on the lane closures and all other WSSC related news.
WSSC Water is the proud provider of safe, seamless and satisfying water services, making the essential possible every day for our neighbors in Montgomery and Prince George's counties. We work to deliver our best because it's what our customers expect and deserve.
Last Modified: