WSSC General Manager Receives Leadership Recognition from the Institute for Supply Management
WSSC Has Led the Way in Supply Chain Management Transformation among Public Sector Organizations
| News Release
OFFICE OF COMMUNICATIONS AND COMMUNITY RELATIONS
FOR IMMEDIATE RELEASE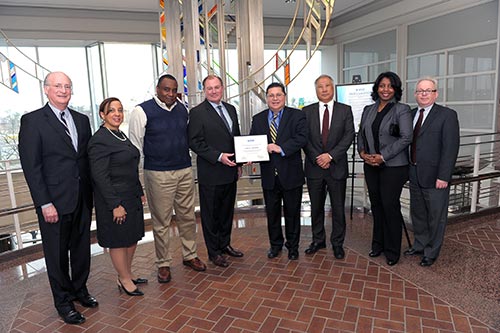 Laurel – March 27, 2015 – Executives from the Institute for Supply Management (ISM) recognized WSSC General Manager and CEO Jerry N. Johnson for his leadership in Supply Chain Management Transformation.
ISM Chief Executive Officer Tom Derry was on hand to personally present the award during WSSC's "National Purchasing Month" celebration. Under Mr. Johnson's leadership, WSSC has led the way in Supply Chain Transformation for public sector organizations. The award was accepted by WSSC Acting Chief Operating Officer Gary Gumm on behalf of Mr. Johnson.
WSSC began its Supply Chain Transformation in November of 2013. Since, WSSC has formed a total of nine Strategic Sourcing Teams, which are cross-departmental teams that bring in a range of expertise and perspectives to the bidding review process. One year into the transformation process, WSSC has lowered the total cost of operations and as of December 2014, the return on investment stands at 700 percent.
"Mr. Johnson is always looking for ways to improve our business," said Mr. Gumm. "Thanks to his leadership, everyone at WSSC and especially our Procurement Team, has made tremendous strides in our procurement transformation to Supply Chain Management with its major benefit of reducing the total cost of operations."
The procurement transformation process so far has improved the overall way WSSC does business by applying best practices, implementing new governance mechanisms and providing the needed training for current and new employees.
During the ceremony, all Procurement Office employees, as well as members of the Strategic Sourcing Teams and procurement professionals were recognized for their efforts through this period of transformation.
For additional information about WSSC's inclusive purchasing environment and opportunities please visit our Small, Local and Minority Businesses page at wsscwater.com.
For 100 years, WSSC has proudly served the citizens of Prince George's and Montgomery counties – providing drinking water that has always met strict Safe Drinking Water Act standards and protecting the environment through vital water resource recovery services. Our vision is to be THE world-class water utility, where excellent products and services are always on tap.
Last Modified: