Water Access Temporarily Closed at Scott's Cove Recreation Area
Playground and Picnic Area Remain Open
| News Release
OFFICE OF COMMUNICATIONS AND COMMUNITY RELATIONS
FOR IMMEDIATE RELEASE
Laurel – June 15, 2015 – As a precautionary measure, WSSC has temporarily closed water access at the Scott's Cove Recreation area located at 10972 Harding Road, Laurel. This means no fishing and no boat-launching from the area. (Swimming is always prohibited). The playground and Picnic Area remain open.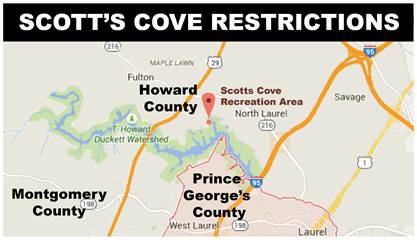 A Howard County wastewater pumping station, located near Scott's Cove along the T. Howard Duckett Reservoir (also known as Rocky Gorge) experienced an overflow this morning. Preliminary estimates indicate about 10,000 gallons overflowed. Of the 10,000 gallons, approximately 600 gallons was wastewater and the remainder was chlorinated drinking water.
The reservoir holds approximately 5 billion gallons of water. WSSC's drinking water is not affected by the overflow.
Howard County is posting signs in the area to warn people about the overflow. For more details about the overflow, please contact the Howard County Bureau of Water and Wastewater Utilities at 410-313-4900.
WSSC will post an update at wsscwater.com and on Twitter and Facebook when water access at Scott's Cove has reopened.
For 100 years, WSSC has proudly served the citizens of Prince George's and Montgomery counties – providing drinking water that has always met strict Safe Drinking Water Act standards and protecting the environment through vital water resource recovery services. Our vision is to be THE world-class water utility, where excellent products and services are always on tap.
Last Modified: