MEDIA ADVISORY: How Old Are Our Pipes? "Wooden" You Like to See?
Crews in Mt. Rainier Are Pulling Century-Old Pipes from Ground
| Media Advisory
OFFICE OF COMMUNICATIONS AND COMMUNITY RELATIONS
FOR IMMEDIATE RELEASE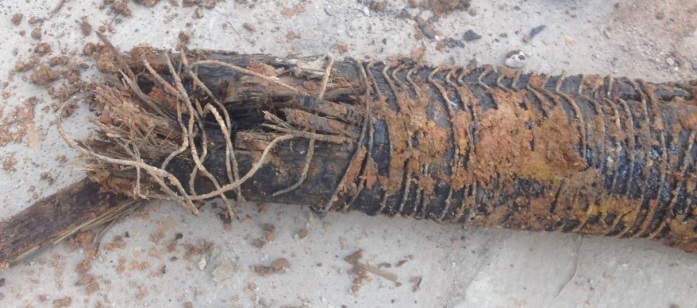 Laurel – September 2, 2015 – WSSC is no stranger to aging infrastructure, but it isn't often we get to see those original old wooden water mains installed during World War I. But that's the case in Mt. Rainier.
As part of a water main replacement project, WSSC is removing the wooden pipes that were installed around 1915. Taken out of service in the 1940s, the wooden pipes were left in the ground and another water main was put in service on the other side of the street. Now the Commission is replacing the 1940s-era pipes in the same trench where the century-old pipes are located.
A WSSC spokesperson will be onsite Thursday for this cool photo and video opportunity.
Date: Thursday, September 3, 2015
Time: 10:00 A.M.
Location: 34th Ave & Bunker Hill Road, Mt. Rainier
For 100 years, WSSC has proudly served the citizens of Prince George's and Montgomery counties – providing drinking water that has always met strict Safe Drinking Water Act standards and protecting the environment through vital water resource recovery services. Our vision is to be THE world-class water utility, where excellent products and services are always on tap.
Last Modified: