Keep Your Family Safe This Holiday Season!
Get Gas Appliances Inspected, Keep Them Maintained
| News Release
OFFICE OF COMMUNICATIONS AND COMMUNITY RELATIONS
FOR IMMEDIATE RELEASE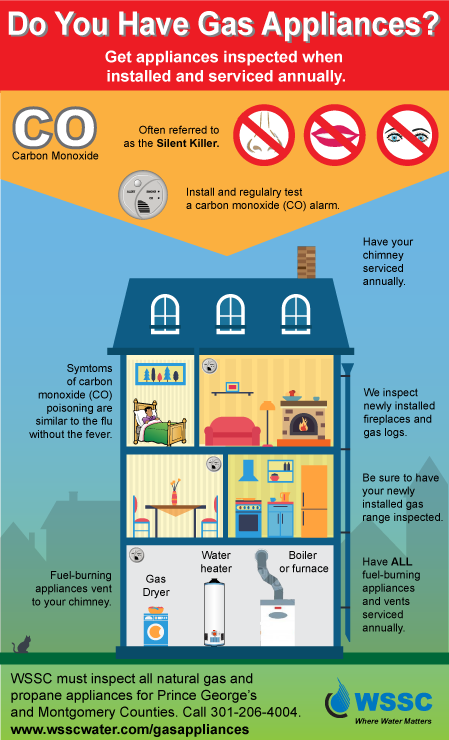 LAUREL, MD – December 22, 2015: On the first day of winter, WSSC reminds you to take time to have your furnace or boiler, water heater and chimney inspected and regularly maintained. Carbon monoxide (CO) is deadly and can escape into your home if gas appliances or your chimney is not working properly.
Gas heating appliances are vented into your chimney. It is critical to keep all these systems cleaned and maintained. CO is an odorless gas that could be present in your home if a system begins to malfunction. Just like smoke alarms, CO monitors can be life-savers. Install them in your home or contact your local fire department for more information.
NOTE: If your gas appliance is new or replaced, be sure that it has been inspected by WSSC within 10 days of installation. In Maryland, WSSC has the oversight authority for natural gas and propane appliance installations for Prince George's and Montgomery Counties.
For your safety, WSSC permits and inspection are required for these new/replaced gas appliances:
• Furnaces and boilers
• Water heaters (Tank type or Tankless)
• Gas logs
• Dryers
• Ranges and cook tops
• Outside gas grills (if attached to natural or propane gas)
• Gas lights
• Fireplaces
• Room heaters and generators.
Talk to your plumber or the company that installs or maintains your appliances and always follow installation instructions. If you still have questions, please contact WSSC Inspection Services today at 301-206-4004 or WSSC Inspection Services Unit Coordinator at 301-206-8616.
WSSC Water is the proud provider of safe, seamless and satisfying water services, making the essential possible every day for our neighbors in Montgomery and Prince George's counties. We work to deliver our best because it's what our customers expect and deserve.
Last Modified: