4:15 PM UPDATE - Temporary Sewer Bypass Nearly Operational in Oxon Hill
Sanitary Sewer Overflow Expected to End Tonight
| News Release
OFFICE OF COMMUNICATIONS AND COMMUNITY RELATIONS
FOR IMMEDIATE RELEASE

Laurel – May 6, 2015 – A sewer overflow in Oxon Hill is expected to be stopped tonight. WSSC has brought in additional crews to put temporary pipe in place, allowing wastewater to be diverted from a leaking sewer pipe.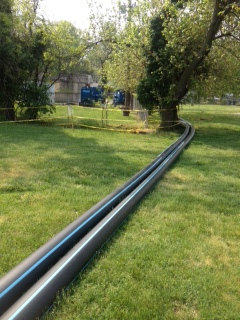 The leak on a 14-inch pressurized sewer main located near 139 N. Huron Drive was reported to WSSC Sunday evening and confirmed at 9:45 p.m.
A contractor for WSSC mobilized Monday to set up equipment that will allow the wastewater to be pumped around the leaking section of pipe. Repairs to the pipe cannot begin until the wastewater flowing through it can be diverted to the temporary pipe.
The leak is approximately 3,500 feet from the nearest manhole. One stretch of temporary pipe (eight inches in diameter) has been run 3,500 feet from the leak to the manhole which connects to WSSC's sewer system. Crews are currently hooking up the pumps needed to move the wastewater through the temporary pipe. As soon as this is complete the wastewater flowing through the leaking 14-inch pipe will be diverted to the 8-inch pipe, stopping the overflow. Then repairs can begin on the damaged pipe.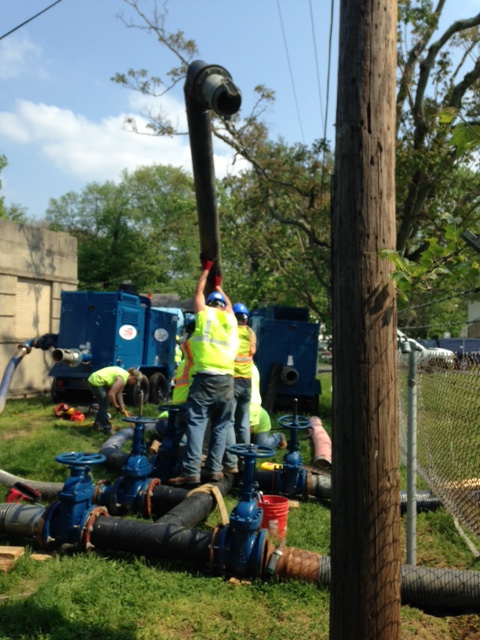 A second, 3,500-foot section of temporary sewer pipe (eight inches in diameter) is also being put in place. That run of pipe will be used if the flow of wastewater exceeds the capacity of the temporary pipe that's already operational.
Most of the overflow has been contained to a drainage swale in the area; however, some of the wastewater has reached Oxon Run. The area where the overflow is occurring has been taped off and 20 signs have been posted warning residents of the overflow.
The overflow has exceeded 10,000 gallons. WSSC will update the estimated total once the overflow has stopped.
It is important to note that WSSC's water and wastewater systems are separate. This overflow is NOT affecting WSSC's drinking water system.
WSSC Water is the proud provider of safe, seamless and satisfying water services, making the essential possible every day for our neighbors in Montgomery and Prince George's counties. We work to deliver our best because it's what our customers expect and deserve.
Last Modified: