3:00 UPDATE: All Customers Now Have Water as Repairs Move Ahead
Large Section of Pipe Will Be Replaced
| News Release
OFFICE OF COMMUNICATIONS AND COMMUNITY RELATIONS
FOR IMMEDIATE RELEASE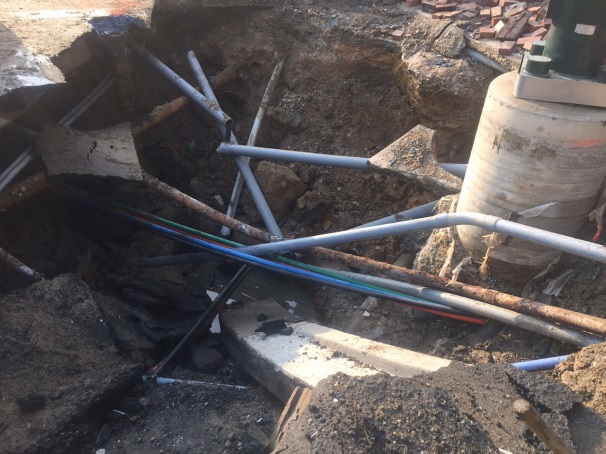 Laurel – July 30, 2015: There is no quick fix for the 16-inch water main break on Colesville Road at Georgia Avenue in Silver Spring. The 76-year-old pipe broke about 3:45 p.m. on Wednesday.
It took crews about 10 hours to fully shut off the water because key valves were located under the water rushing from the break. Approximately 5 million gallons of water was lost. No customers are without water.
A contractor for WSSC is on site, along with crews from numerous other agencies who also have utility lines located near the broken water main. Those utility lines will be checked and necessary repairs will be made.
WSSC's contractor will cut out approximately 25 feet of pipe and replace it. Repairs to the water main and the damaged roadway will continue into Friday.
There is currently one lane getting by on northbound Colesville Road, all southbound lanes of Colesville Road are open. Two lanes of southbound Georgia Avenue are open and all northbound lanes on Georgia Avenue are open.
Follow us @WSSCWaterNews for updates on the water main repair and lane closures.
For 100 years, WSSC has proudly served the citizens of Prince George's and Montgomery counties – providing drinking water that has always met strict Safe Drinking Water Act standards and protecting the environment through vital water resource recovery services. Our vision is to be THE world-class water utility, where excellent products and services are always on tap.
Last Modified: