1:30 P.M. UPDATE Water Service Restored in Bladensburg Following 90-Year Old Water Main Break
375 Breaks So Far This Year
| News Release
OFFICE OF COMMUNICATIONS AND COMMUNITY RELATIONS
FOR IMMEDIATE RELEASE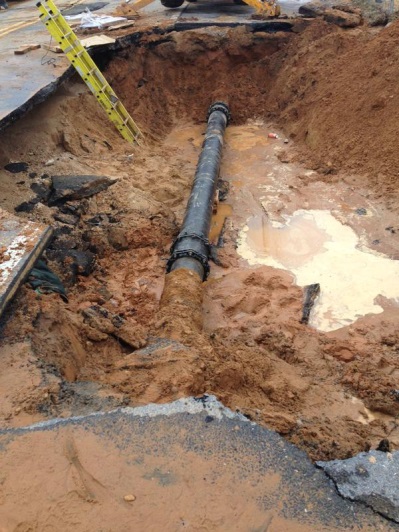 Laurel – January 27, 2015: WSSC crews have restored water service to the 77 customers in Bladensburg affected by this morning's water main break. The 90-year old pipe in the 4800 block of Edmonston Road broke about 3:30 a.m.
Crews spent about four hours working to get all the necessary valves closed to stop the flow of water.
A sinkhole formed in the street and swallowed one car. Another was stuck on the edge of the sinkhole. Both cars were removed this morning. WSSC's Claims and Emergency Services Team was onsite working with affected homeowners.
Crews replaced about 15-feet of pipe and put the water main back into service about 1:00 p.m.
Edmonston Road is closed between Decatur Street and Chesapeake Road while the street is repaired.
Since January 1, 2015, WSSC's utility technicians have repaired 375 broken and leaking water mains.
Follow us @WSSCWaterNews for the latest information.
For 100 years, WSSC has proudly served the citizens of Prince George's and Montgomery counties – providing drinking water that has always met strict Safe Drinking Water Act standards and protecting the environment through vital water resource recovery services. Our vision is to be THE world-class water utility, where excellent products and services are always on tap.
Last Modified: