Expected Rain Causes WSSC to Release Water From Duckett Dam
Release Is a Standard and Proactive Measure
| News Release
OFFICE OF COMMUNICATIONS AND COMMUNITY RELATIONS
FOR IMMEDIATE RELEASE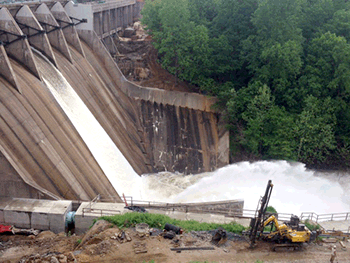 Laurel – May 15, 2014: In anticipation of the expected regional rainfall, WSSC began releasing water on Tuesday from the T. Howard Duckett Dam in Laurel. WSSC has notified all appropriate agencies and jurisdictions, including the City of Laurel.
Release of water from the dam is a precautionary measure to protect the integrity of the structure. This is a standard and proactive action taken during times when heavy and long-lasting rainfall is predicted.
WSSC remains in constant communication and coordination with state and local government agencies. The City of Laurel has also begun to take precautionary measures; for updates, media should visit www.cityoflaurel.org or follow Audrey Barnes on Twitter @LaurelPIO. WSSC will continuously monitor the level of the reservoirs and assess the situation even after the rain ends.
The reservoir and dam system along the Patuxent River provides source drinking water for approximately 600,000 of WSSC's 1.8 million customers. The T. Howard Duckett Dam went into service in 1954.
WSSC Water is the proud provider of safe, seamless and satisfying water services, making the essential possible every day for our neighbors in Montgomery and Prince George's counties. We work to deliver our best because it's what our customers expect and deserve.
Last Modified: