WSSC Completes Repairs on Sewer Break in Olney
Overflow Ended, Clean up Continues
| News Release
OFFICE OF COMMUNICATIONS AND COMMUNITY RELATIONS
FOR IMMEDIATE RELEASE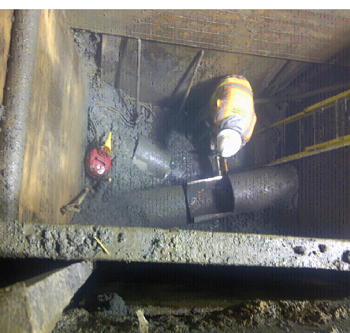 Laurel – March 9, 2013: As of 3:45 a.m., Saturday morning, repairs to the 16" force main, in Olney, are complete and the Reddy Branch Pumping Station is back in service. The sewage flow stopped at the pumping station as of 4:00 a.m. Work will continue at the site today. On Monday, WSSC will meet with county and state agencies to go over restoration and additional clean up.
"I want to thank and commend all of the WSSC employees as well as the contractors who worked around the clock to repair this break," said WSSC General Manager/CEO Jerry N. Johnson. "This was not an easy job, nor was it a pleasant job. And we needed to make this repair quickly to limit potential damage to the environment and for our customers. I also thank the residents in that area for their understanding and continued patience as we complete the work and clean up the area."
For 100 years, WSSC has proudly served the citizens of Prince George's and Montgomery counties – providing drinking water that has always met strict Safe Drinking Water Act standards and protecting the environment through vital water resource recovery services. Our vision is to be THE world-class water utility, where excellent products and services are always on tap.
Last Modified: