Winning Anglers Pull in Lunkers at WSSC's Annual Fishing Derby
| News Release
OFFICE OF COMMUNICATIONS AND COMMUNITY RELATIONS
FOR IMMEDIATE RELEASE
Laurel – May 21, 2013: Fisherman of all ages came out in "schools" for the Washington Suburban Sanitary Commission's (WSSC) annual Family Fishing Derby over the weekend. Almost 200 anglers from over 50 different families swarmed the Triadelphia Recreation Area on Saturday (5/18) for a fun-filled morning of contests and prizes.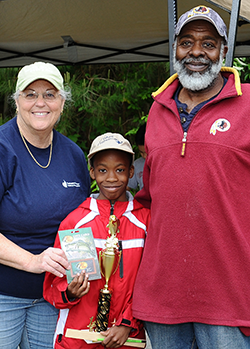 Trophies were awarded for heaviest fish and most fish caught by a fisherman ages 16 years or younger and a plaque for both categories was given to fishermen older than 16. The Bass Pro shop awarded $50 gift certificates to the adult and youth winners in the heaviest fish category.
Adult Winner
Heaviest Fish Lloyd Williams 3.3 lb (Largemouth Bass)
Most Fish Caught Lloyd Williams 13 fish

Child Winners—Heaviest Fish Caught
1st Colin Parker Jr. 1.1 lb. Catfish
2nd Caleb Sorkin .83 lb Largemouth bass
3rd Wilmer Hernandez .39 lb Crappie

Child Winners – Most Fish Caught
1st Hank Williams Jr. 28
2nd Hudson Haslan 14
3rd Lily Thongphok 6
The majority of the fish caught on Saturday were white perch and blue gill, though some anglers brought in some low weight largemouth bass and crappie. All of the fish caught during the derby were released back into the Triadelphia Reservoir. For more information on fishing on WSSC's reservoirs, please visit our web site.
For 100 years, WSSC has proudly served the citizens of Prince George's and Montgomery counties – providing drinking water that has always met strict Safe Drinking Water Act standards and protecting the environment through vital water resource recovery services. Our vision is to be THE world-class water utility, where excellent products and services are always on tap.
Last Modified: