Southbound Lanes of Connecticut Avenue Closed Near Kensington
WSSC Repairs Water Main Break
| News Release
OFFICE OF COMMUNICATIONS AND COMMUNITY RELATIONS
FOR IMMEDIATE RELEASE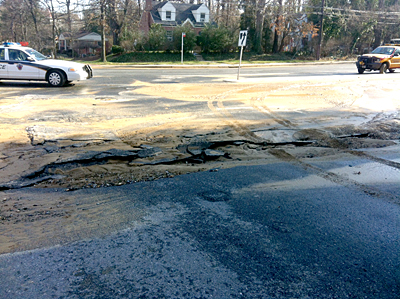 Laurel - January 7, 2013: The work began around 12:30 p.m. Water service is disrupted for 18 residential customers in the area. WSSC will restore and reopen the roadway in coordination with the Maryland State Highway Administration, following the repairs.
The southbound lanes of Connecticut Avenue between Knowles Avenue and Saul Road in Kensington are closed through evening rush hour today, due to water main break repairs at the corner of Franklin Street. WSSC crews are working to repair a 78-year old, 8-inch water main at the 9800 block of Connecticut Avenue.
With nearly 5,600 miles of water mains throughout its service area, WSSC appreciates notification from residents if they suspect a water main break. Residents can call 301-206-4002 or toll free 1-800-828-6439 at any time to report water or sewer emergencies in Prince George's or Montgomery counties.
For 100 years, WSSC has proudly served the citizens of Prince George's and Montgomery counties – providing drinking water that has always met strict Safe Drinking Water Act standards and protecting the environment through vital water resource recovery services. Our vision is to be THE world-class water utility, where excellent products and services are always on tap.
Last Modified: