Excessive Rainfall Causes WSSC to Release Water from Brighton and Duckett Dams
Evacuations necessary in Laurel area
| News Release
OFFICE OF COMMUNICATIONS AND COMMUNITY RELATIONS
FOR IMMEDIATE RELEASE
Laurel – January 31, 2013: Heavier than expected rainfall has forced the Washington Suburban Sanitary Commission (WSSC) to release water from both its Brighton Dam in Brookeville and its T. Howard Duckett Dam in Laurel, which is causing the need for evacuations in parts of the City of Laurel.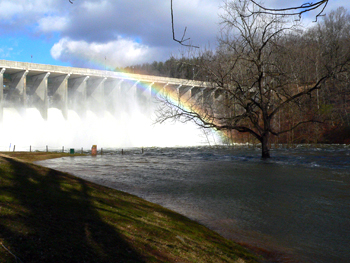 WSSC has been coordinating with the City of Laurel and other government agencies.
The amount of rainfall overnight was more than double what was expected in some areas. The normal level of the Patuxent River as it enters the Triadelphia Reservoir is 2.4 feet. That level reached 10.5 feet earlier today.
WSSC continuously monitors the level of the Triadelphia and Rocky Gorge Reservoirs to determine when and how much water should be released from the dams. In anticipation of the rainfall, WSSC released water from Duckett Dam yesterday; however the amount of rainfall was significantly greater than what was predicted. The land around the reservoirs was already saturated leading to a large amount of runoff into the reservoirs, which contributed to the rising water levels. Release of water from the dams is a precautionary measure to protect the dam structures.
Brighton Dam went into service in 1944 and the T. Howard Duckett Dam went into service in 1954. Brighton Dam created the Triadelphia Reservoir and Duckett Dam created the Rocky Gorge Reservoir. The primary purpose of both is to provide source drinking water for approximately 600,000 WSSC customers.
The City of Laurel has opened its Emergency Operations Center (EOC) in anticipation of flooding. Media can contact Pete Piringer with the City of Laurel at 240-372-3749 for more information.
WSSC Water is the proud provider of safe, seamless and satisfying water services, making the essential possible every day for our neighbors in Montgomery and Prince George's counties. We work to deliver our best because it's what our customers expect and deserve.
Last Modified: