Bi-County Water Tunnel Reaches Milestone
Tunnel Boring Machine "Holes Through" at Tuckerman Shaft
| News Release
OFFICE OF COMMUNICATIONS AND COMMUNITY RELATIONS
FOR IMMEDIATE RELEASE
Laurel – April 30, 2013: Hitting a target 4.5 miles away when boring a tunnel 200 feet underground is quite a feat. Last Friday, the Tunnel Boring Machine (TBM) hit the target just a few feet off dead center, breaking through the wall of a shaft near Tuckerman Lane and I-270. Miners call it, "holing through."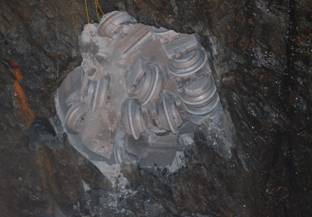 This was the last leg of the 5.3-mile tunnel and completes the mining portion of the Bi-County Water Tunnel Project. Pipe installation will begin after the TBM is lifted out of the shaft.
The tunnel, which runs approximately 200 feet underground along I-270 and I-495, will house an 84-inch diameter water main. When completed in 2014, the transmission main will connect two existing 96-inch mains and have a capacity of 100 million gallons of water per day.
The new line is being constructed to respond to increasing demands for water in Prince George's and Montgomery counties, as well as increase reserves in case of emergency.
Check out the video of "hole through."
For 100 years, WSSC has proudly served the citizens of Prince George's and Montgomery counties – providing drinking water that has always met strict Safe Drinking Water Act standards and protecting the environment through vital water resource recovery services. Our vision is to be THE world-class water utility, where excellent products and services are always on tap.
Last Modified: