April is National Safe Digging Month
WSSC Reminds You to Call 811 Before You Dig
| News Release
OFFICE OF COMMUNICATIONS AND COMMUNITY RELATIONS
FOR IMMEDIATE RELEASE
Laurel – April 10, 2013: Planning on planting a tree? Building a deck? ANY kind of job that requires digging? The Washington Suburban Sanitary Commission (WSSC) is partnering with Miss Utility to encourage all residents and commercial customers to call "811" before you begin any job or project that requires digging.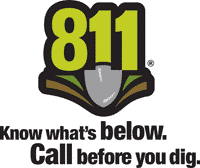 April is "National Safe Digging Month," highlighting 811, the new national, federally mandated "Call Before You Dig" number. The goal of "811" is to protect homeowners and professional excavators from unintentionally cutting underground utility lines in the course of their work. Hitting an underground utility line while digging can:
Harm the environment
Cause serious personal injuries
Disrupt service to an entire neighborhood
Potentially incur fines and repair costs
Those planning a digging project should call 811 at least 2 business days ahead of the start date. Once the specific location is determined, Miss Utility will coordinate with affected utilities that will send out a professional locator to mark the location of the lines. This service is totally free of charge.
Every year, approximately 170,000 underground utility lines are damaged by digging projects. In Maryland, there is specific legislation in place to enforce the Miss Utility Law. Failing to call "811" prior to a digging job could result in fines and additional costs related to repairing the utility lines. Visit the Miss Utility website for additional information, including a special section geared specifically to homeowners.
For 100 years, WSSC has proudly served the citizens of Prince George's and Montgomery counties – providing drinking water that has always met strict Safe Drinking Water Act standards and protecting the environment through vital water resource recovery services. Our vision is to be THE world-class water utility, where excellent products and services are always on tap.
Last Modified: