University of Maryland Students Becoming Weed Warriors in Effort to Help the Bay
| News Release
OFFICE OF COMMUNICATIONS AND COMMUNITY RELATIONS
FOR IMMEDIATE RELEASE
Laurel – August 21, 2012: One-hundred-fifty University of Maryland-College Park students are becoming kudzu crusaders. On August 27, the intrepid weeders are helping the Washington Suburban Sanitary Commission (WSSC) remove sections of the exotic, crawling, twisting vine along the Patuxent River on Harding Road in Laurel.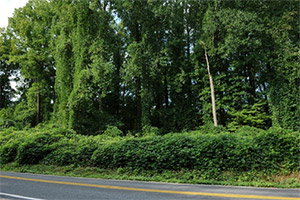 Removing the kudzu along the river's forested buffer will ultimately help the Bay because the vine smothers other shrubs and trees, weighing them down during storms. The trees and shrubs help cool down river temperatures, allowing the river to hold more oxygen. Having more oxygen enables a wider range of fish and other aquatic life to live in the river and the bay.
Introduced into this country from Japan during the 1800s, kudzu hides food, shelter and cover sources that birds and other fauna need to survive. The prolific vines grow as much as a foot per day during summer months, climbing trees, power poles, and anything else in which they come in contact. Given kudzu's potential to grow 60 feet each year, it has been chosen as the Maryland Invasive Species Council's (MISC) invader of the month for August.
The most significant environmental impact of kudzu is its devastation of local biodiversity. Kudzu may also degrade local air quality by emitting large amounts of the small hydrocarbon isoprene, which reacts in sunlight to form ozone. Soils infested with kudzu also emit nitrogen-containing compounds that have been linked to ozone formation.
Mostly incoming freshmen, the kudzu crusaders are spending their first day as college students giving back to the community as part of the university's "Service Day." The students are members of the CIVICUS and College Park Scholars programs.
This is the second year that WSSC has sponsored this type of project with the university. The students will also learn about the importance of forests and forested buffers from Michael Calkins, a forester from the Howard County Soil Conservation District.
WSSC lists a number of volunteer opportunities in the fall to help the environment. Nearly all of these opportunities are approved for service learning hours. Volunteer Opportunities List
For 100 years, WSSC has proudly served the citizens of Prince George's and Montgomery counties – providing drinking water that has always met strict Safe Drinking Water Act standards and protecting the environment through vital water resource recovery services. Our vision is to be THE world-class water utility, where excellent products and services are always on tap.
Last Modified: