Hundreds of 4th Graders Selected for WSSC'S 2013 Children's Water Festival
Elementary Schools in Montgomery, Prince George's Counties Selected to Participate
| News Release
OFFICE OF COMMUNICATIONS AND COMMUNITY RELATIONS
FOR IMMEDIATE RELEASE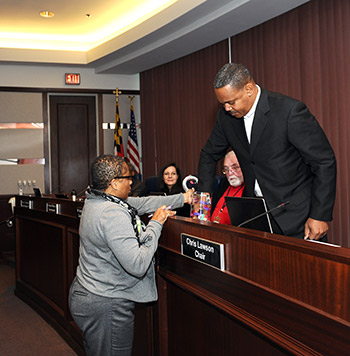 Laurel – December 19, 2012: In a lottery-style drawing held at the Washington Suburban Sanitary Commission (WSSC) headquarters, schools from Montgomery and Prince George's counties were selected to participate in the 8th Annual Children's Water Festival to take place May 8 and 9, 2013 at WSSC's Brighton Dam facility in Brookeville, Maryland. Over the two days, several hundred 4th graders will spend one day per group learning about water.
The winners in the drawing, selected by WSSC Commission Chair Christopher Lawson (Prince George's County) and Vice - Chair Gene Counihan (Montgomery County) are:
From Prince George's County: Indian Queen Elementary School in Fort Washington; Lewisdale Elementary School in Hyattsville and Rockledge Elementary School in Bowie.
From Montgomery County: Belmont Elementary School in Olney; Candlewood Elementary School in Derwood and Waters Landing Elementary School in Germantown.
The Children's Water Festival offers students the opportunity to participate in hands-on learning activities about water, wetlands, human health, aquatic life and more. Each year the festival coincides with "National Drinking Water Week" and provides the students with a chance to dive into the world of water education and soak up an exciting, interactive lesson about life's most precious resource.
"We hope a new generation of environmental stewards and water and wastewater engineers will be cultivated. The water festival provides important lessons on the role they play in protecting our environment in a fun way for the students," said WSSC Customer Outreach Coordinator Angela Ballard - Landers. "Teaching students about water and the environment in a way the kids love, the schools love and that our employees love working on is a win-win for everyone!"
Elementary schools from across Montgomery and Prince George's counties were eligible to enter their fourth grade classes in the lottery.
To find out more about the Children's Water Festival and to see videos of previous events visit Children's Water Festival.
For 100 years, WSSC has proudly served the citizens of Prince George's and Montgomery counties – providing drinking water that has always met strict Safe Drinking Water Act standards and protecting the environment through vital water resource recovery services. Our vision is to be THE world-class water utility, where excellent products and services are always on tap.
Last Modified: