Former General Manager Richard G. Hocevar Dies
Remembered as an innovative leader who connected with employees
| News Release
OFFICE OF COMMUNICATIONS AND COMMUNITY RELATIONS
FOR IMMEDIATE RELEASE
Laurel – September 18, 2012: Richard G. Hocevar, former General Manager of the Washington Suburban Sanitary Commission (WSSC) died yesterday in Sandy Spring at the age of 86.
Hocevar started his career at WSSC in 1974 as Deputy General Manager later becoming the Director of Maintenance and Operations. In July 1985, Mr. Hocevar took over as General Manager.
In 1978, Hocevar was instrumental in helping WSSC become the first municipal utility in the United States to use a trenchless pipe rehabilitation technology from England.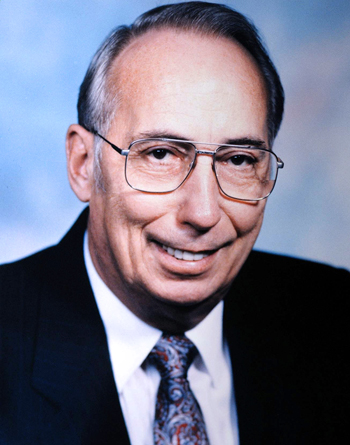 In 1987, Mr. Hocevar succeeded where others had failed for more than a decade, obtaining the approval of the County Executives and Councils of both Counties to build a consolidated office building for WSSC in Laurel. The Richard G. Hocevar building opened in 1992.
One year later, Mr. Hocevar led a successful effort to convince the Maryland General Assembly to approve a "systems development charge". It allowed WSSC to bill developers for the cost of providing water and sewer services to new buildings, rather than incorporating those costs as part of customer rates.
In April 1993, at age 66, Mr. Hocevar retired from WSSC. He is remembered for his straight-forward, cooperative approach with County Government leaders in both Montgomery and Prince George's which improved working relationships for WSSC.
"Dick Hocevar's legacy with WSSC goes far beyond the building that bears his name," said current General Manager/CEO Jerry N. Johnson. "He was an innovator, bringing the latest in industry technology and techniques to WSSC. He was beloved by employees and he cared deeply about serving our customers, being acutely aware of the importance of water and wastewater services while at the same time being concerned about costs."
Mr. Hocevar was noted for starting his work day by talking to WSSC crews on the street before coming to his office. Mike Trail, a Construction Manager who has been with the Commission for 26 years remembers Mr. Hocevar as a 'people's GM' who always fought for the employees to give them what he felt they deserved. Trail said "not many people have a building named after them."
Prior to WSSC, Mr. Hocevar had a distinguished career as an administrator with the District of Columbia's Department of Environmental Services as well as a nearly 25-year career in the Army Air Corps/Air Force.
Despite never graduating from high school (he did obtain a GED) or attending college, Hocevar ultimately had an exceptional career with WSSC during a period of rapid growth in Montgomery and Prince George's counties.
The WSSC flag has been lowered to half staff in honor of Hocevar. Plans for a memorial service and burial are pending.
For 100 years, WSSC has proudly served the citizens of Prince George's and Montgomery counties – providing drinking water that has always met strict Safe Drinking Water Act standards and protecting the environment through vital water resource recovery services. Our vision is to be THE world-class water utility, where excellent products and services are always on tap.
Last Modified: